We all meet people who inspire us and have a great story but it's what we do with that inspiration that counts. In July 2018, Sam was invited to 'Not Another Networking Event' which was the first introduction she had to the 'Me & Dee' charity and Maria Hanson MBE.
Me & Dee are a Derbyshire based charity who give respite holidays to families with a terminally ill member (whether that be a parent or child).
The work that Maria has accomplished since starting the charity is remarkable, providing memories to families when they most need them.
Enable Life has chosen to partner with Me & Dee to support the great work that Maria and her team do 24/7. From time to time, we all need support and hope in our lives. Enable Life has decided to donate 'Hope the Elephant' – we have all heard the saying "an elephant never forgets". For every client that Enable Life provides a solution for with their Insurance, we will donate 'Hope' to a family.
To find out more about Me & Dee, follow this link.
It all started when Sam didn't get tickets for Glastonbury Festival one year and as they say, the rest is history. Volunteering for a global organisation is one thing, walking through the hallowed fields of Glastonbury Festival before it's filled with tents is another; it's such an honour.
The most inspiring thing when volunteering for Oxfam Festivals is the feeling of family, belonging and fun with people you may not have met before – who have one common interest. Helping others.
At festivals, the high vis vest seems to turn you into the oracle (from the matrix), everyone is always grateful when you can answer their question or point them in the right direction. It's usually the simple things in life that are the most humbling.
The rain can be challenging at times. When the sun shines, however, there's not many better places to be
To find out more about Oxfam Festivals, follow this link.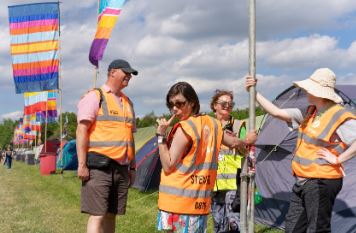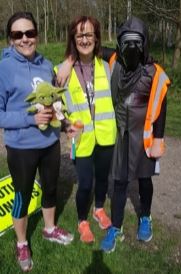 There are days you run and days you don't…and then there are days you watch others run.
Volunteering at Parkrun has been something Sam has been doing since September 2016. It feels great to give back to your own community. Parkrun is a weekly, free timed 5k run all over the UK and now around the world, inspired by a group of friends who met in a park one Saturday morning.
To find out more about Parkrun, follow this link.